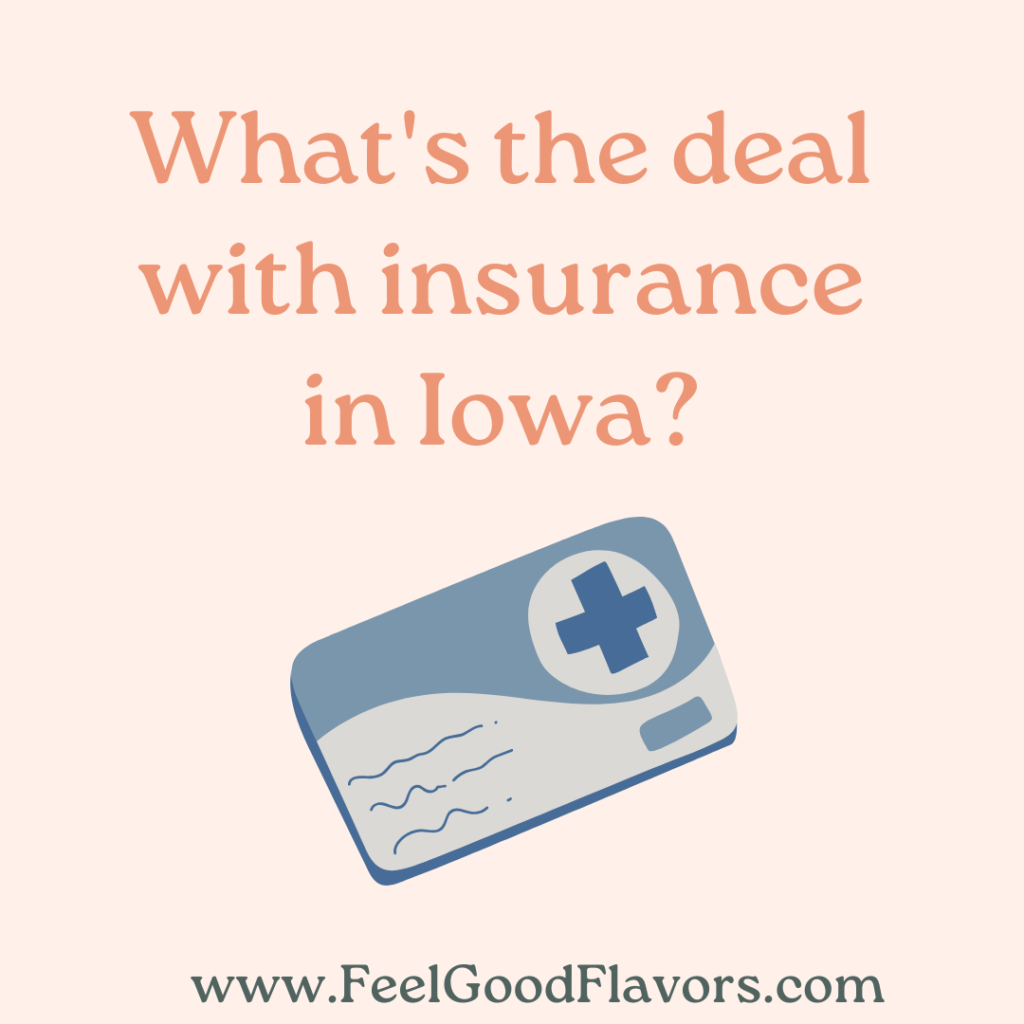 Navigating insurance care for your eating disorder is really challenging. On top of that, Iowa state laws make it even more difficult to coordinate care with an outpatient dietitian. This page will discuss these challenges and some tips to help you find the support you need.
I have some recent updates!
The main issue with insurance in Iowa is Wellmark BCBS. I have had successful reimbursement for Iowa residents who have out of state BCBS (for instance AZ BCBS). If you are an Iowa resident and have an out of state BCBS plan or an Aetna plan, it is possible you may have some coverage from your insurance for nutrition therapy with a dietitian!
The Challenges of Using Insurance in Iowa
The truth is: we live in a society that does not value and uplift preventative care and harm reduction. The most basic insurance plans in the US often do not cover eating disorder care from a dietitian. In Iowa, as of this blog post date, there are ZERO inpatient or residential eating disorder focused facilities. ZERO.
Many people cannot afford to travel out of state, and additionally face barriers with insurance covering programs that are out of state. If insurance does cover an out of state program, there is no guarantee that lab work will be covered out of state, leaving people with surprise bills after their stay! This unfortunately causes direct harm to people with eating disorders who cannot access care.
I have been licensed in Iowa as a dietitian for years now, and have found it very difficult to get straight answers about working with insurance. People working with the Academy of Nutrition and Dietetics have told me the issue is a state law that prevents RDs from being "preferred providers" – so we cannot be in network with insurance companies.  According to the officials, they are aware of this problem, but it is very difficult to change.
I understand how this is confusing. I am in network with Blue Cross Blue Shield (BCBS) and can use it with no issues for folks in other states I am licensed in for full coverage. The problem is when I submit claims for people seeing our dietitians in Iowa, WellMark Blue Cross Blue Shield immediately denies all claims because they don't see private practice RDs as legitimate "preferred" providers.
This is a problem. It means people who need support with their eating disorders in Iowa are not being cared for in the way they were counting on their insurance companies. It is frustrating for me as well, as accessibility in care is an important value of Feel Good Flavors Dietitians.
What you can do to get care:
Here are some practical steps to take to try to get some of your care covered, and to advocate for insurance use for dietitians in Iowa.
Contact your insurance and request a case manager. If you work with an assigned case manager, you may qualify for improved reimbursement or even a single case agreement.
Contact your representative. Share with them that you are unable to access the care you need due to private practice dietitians being "non-preferred providers". This is a law that needs to change!
Contact your insurance company and let them know you are frustrated that as a customer your needs are not being met. Share with them the financial benefits for THEM of seeing an outpatient dietitian. We help save insurance companies money by preventing inpatient and residential treatment.
I am sorry that Iowa and insurance companies and our society as a whole has failed you in providing accessible care. I believe you deserve to heal from any issues you have with food with the right support.
At Feel Good Flavors, we offer 2 sliding scale slots to those who need them, prioritizing people with marginalized identities. We also provide Superbills (a medical receipt) for you to submit to your insurance in the hopes of reimbursement. We accept HSA/FSA cards as well.
Project Heal is a great resource if you are struggling to afford care. You are also welcome to email me at Lindsay@FeelGoodFlavors.com for a list of free support groups.