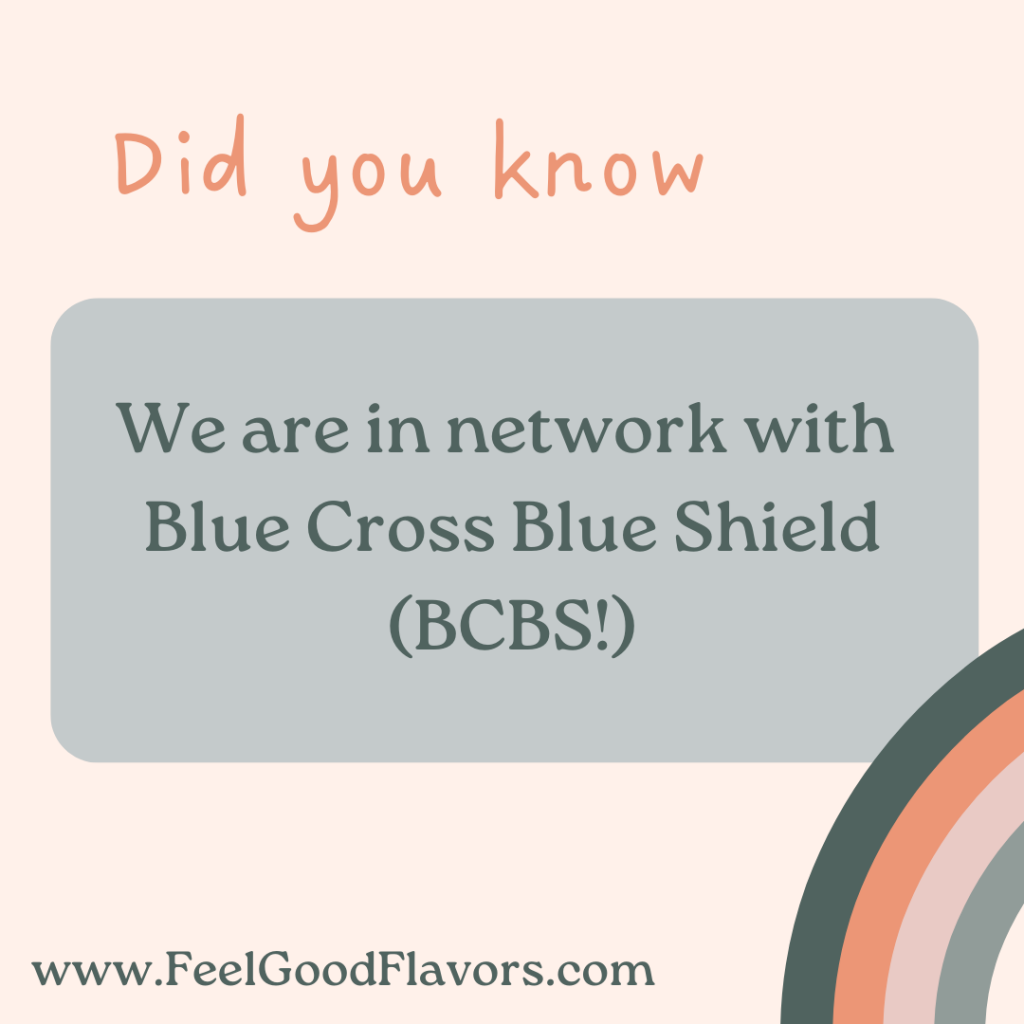 If you're struggling with an eating disorder, seeking professional help is essential to your recovery. But the cost of nutrition therapy and counseling can be a significant financial burden. Fortunately, many Blue Cross Blue Shield (BCBS) health insurance plans cover nutrition services, including treatment for eating disorders. They also cover general nutrition support even if you do not have an eating disorder or any other diagnosis! In this blog post, we'll discuss the benefits of using insurance for eating disorder recovery sessions and why you should consider utilizing this resource.
As a registered dietitian specializing in eating disorders, our practice is in network with BCBS, and Aetna. This means that if you have Blue Cross Blue Shield (BCBS) or Aetna insurance, you may be able to attend nutrition therapy sessions with us at little or no cost. Typically, our clients with this plan pay $0 out of pocket. This is a significant advantage for those who need regular nutrition therapy sessions to manage their eating disorder.
We see clients in many states, including Arizona, California, Colorado, Connecticut, Iowa, Massachusetts, Michigan, New Hampshire, New Jersey, New York, Utah, Vermont, Virginia and more. Unfortunately, due to a state law, Iowa residents do not qualify to use insurance with private practice eating disorder dietitians. Mad about this like I am? Contact your local representative! You deserve accessible care.
The first benefit of using insurance for therapy sessions is the financial relief it provides. Many people put off seeking treatment for their eating disorder due to the cost of having a treatment team. It is important to have a therapist, dietitian, and doctor on your recovery team at a minimum. With insurance coverage, you won't have to worry about paying the full cost out of pocket, which can be a significant relief for individuals and families. By using your insurance, you can attend regular nutrition therapy sessions without worrying about the financial burden.
Another benefit of using insurance for therapy sessions is that it can help you stay committed to your treatment plan. Eating disorder recovery can be a long and challenging journey, and it's essential to have consistent support from a trained professional. With insurance coverage, you can attend sessions regularly without worrying about the cost, making it easier to stay on track with your treatment plan.
Finally, using insurance for nutrition therapy sessions can also improve your overall health and wellbeing. Eating disorders can take a severe toll on both your physical and mental health. By attending dietitian sessions, you'll have access to tools and resources that can help you develop healthy coping mechanisms, improve your relationship with food, and improve your body image as well.
At Feel Good Flavors, we're committed to supporting individuals on their journey to healing their relationship with food and their bodies. If you have Blue Cross Blue Shield (BCBS) insurance, you may be eligible for little to no out-of-pocket costs for therapy sessions. Contact us today to start your journey to recovery.